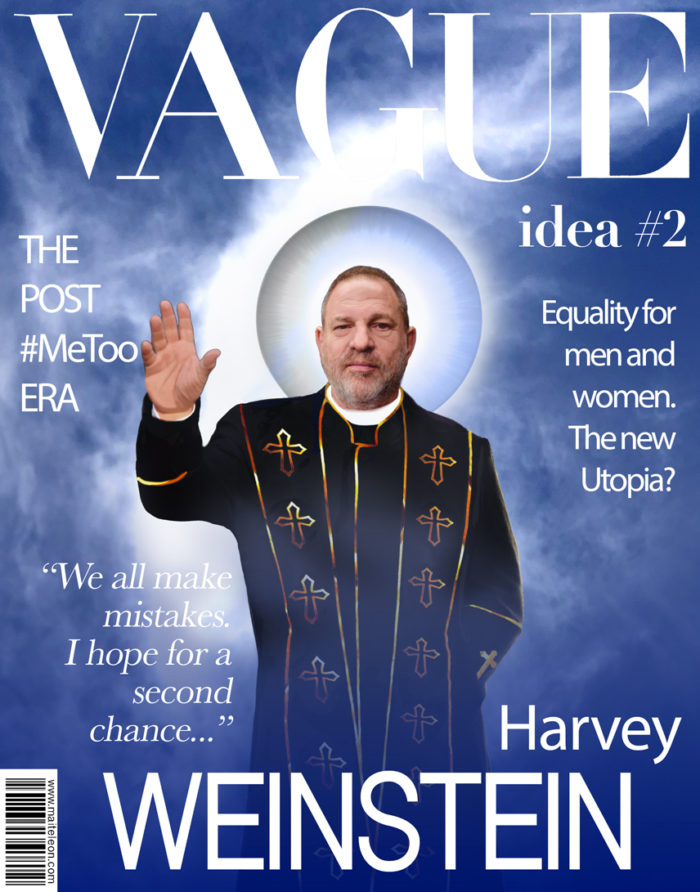 The Post #MeToo Era
American film producer Hervey Weinstein was accused in 2017 of sexually harassing or assaulting more than 80 women over three decades and making confidential out-of-court financial settlements with some of them.
The scandal led to the global #MeToo movement which exposed sexual misconduct, harassment and sexual assault not only in the film industry but in all sectors of society where power goes with abuse. The ripple effect was international: politicians and eminent personalities were no longer untouchable. Anti-harassment laws have been adopted around the world in order to improve women's rights and women's protection.
When the scandal broke out in October 2017, many actors who had worked with him, severely condemned his misconduct:
"The disgraceful news about Harvey Weinstein has appalled those of us whose work he championed, and those whose good and worthy causes he supported. The intrepid women who raised their voices to expose this abuse are our heroes. One thing can be clarified. Not everybody knew.
Harvey supported the work fiercely, was exasperating but respectful with me in our working relationship, and with many others with whom he worked professionally. I didn't know about these other offenses: I did not know about his financial settlements with actresses and colleagues; I did not know about his having meetings in his hotel room, his bathroom, or other inappropriate, coercive acts, and if everybody knew, I don't believe that all the investigative reporters in the entertainment and the hard news media would have neglected for decades to write about it. The behaviour is inexcusable, but the abuse of power familiar. Each brave voice that is raised, heard and credited by our watchdog media will ultimately change the game."
Actress Meryl Streep • The New York Times
"Whilst there is no doubt that Harvey Weinstein has helped and championed my career for the past twenty years, I was completely unaware of these offences which are, of course, horrifying, and I offer my sympathy to those who have suffered, and wholehearted support to those who have spoken out."
Actress Judi Dench • The Sun
"I worked with Mr Weinstein twice and although he was bullish in his marketing of the films, he was always professional with me. I had heard rumours of his tantrums and bullying but not of the extreme sexual harassment and abuse that is coming to light now. I would like to applaud the extraordinary bravery of the women who are coming forward. It is only through acts of bravery like this that we will see change. I believe we need a serious discussion about women's treatment in the workplace and the culture that allows people like Mr Weinstein to so abhorrently abuse their power. It would be naive to assume that this is an isolated case in the film industry or any other and while women remain so underrepresented across all professions and in politics, they remain at risk."
Actress Keira Knightley • The Daily Telegraph
"Weinstein. It's about time this came to light and he is getting is just deserts. Heard rumours over the years but this is awful. Bye Bully!"
Actor Ewan McGregor • Twitter
"Fathers. Teach your sons to respect woman. Teach your daughters to use their power like the voices of these heroic woman speaking out."
Actor Kevin Bacon • Twitter
"I was warned from the beginning. The stories were everywhere. To deny it is to create an environment for it to happen again."
Actress Jessica Chastain • The Telegraph
"A lot of people are doing the 'you had to know' thing right now, and yes, if you're asking if I knew that someone who was very powerful had a tendency to hit on young, beautiful women, sure. But I had no idea that it had gone to the level of having to pay off eight women for their silence, and that these women were threatened and victimized. This is harrassment on every high level. There's nothing to say except that it's indefensible."
Actor George Clooney • Daily Beast
"You had to spend about five minutes with him to know that he was a bully, he was intimidating — that was his legend. When people say everybody knew, yeah I knew he was an asshole. He was proud of that. I knew he was a womanizer. I wouldn't want to be married to the guy, but it's not my business," Damon said, explaining his thinking back then. "But this level of criminal sexual predation is not something that I ever thought was going on."
Actor Matt Damon • ABC
"The fact that these women are starting to speak out about the gross misconduct of one of our most important and well regarded film producers, is incredibly brave and has been deeply shocking to hear. The way Harvey Weinstein has treated these vulnerable, talented young women is NOT the way women should ever EVER deem to be acceptable or commonplace in ANY workplace."
Actress Kate Winslet • Variety
Although Harvey Weinstein is facing multiple assault and rape charges in court, he keeps denying all accusations: he admits "causing a lot of pain" but maintains that all his sexual encounters with women were consensual. Before hell broke loose for him, back in 2017, he even said: "We all make mistakes. I hope for a second chance…" Let's hope justice will do its work.