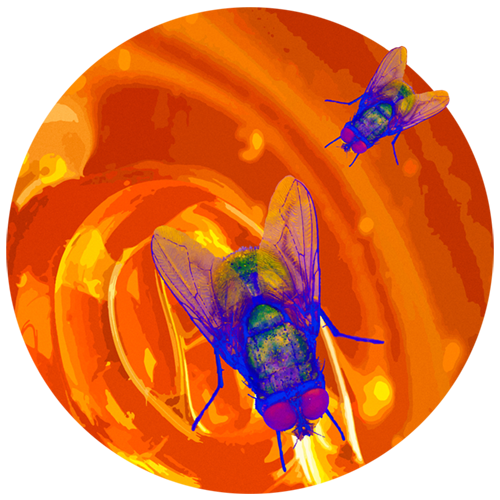 Les mouches • Flies
J'adore dessiner des mouches. Il y a quelque chose de gracieux chez elles, toujours en train de se nettoyer, malgré leur réputation de saleté. Elles sont incomprises, comme la plupart des créatures auxquelles nous attribuons des caractéristiques négatives, propres aux humains…
Et vous, que pensez-vous des mouches ?
La mouche joue un rôle vital dans le cycle de la vie. Elle a une représentation à la fois positive et négative dans sa symbolique :
Dans l'art occidental, remontant à l'époque médiévale, les mouches étaient utilisées pour symboliser la décomposition, la mort et la pourriture de la chair et de l'âme. Dans le symbolisme chrétien, une mouche planant au-dessus d'un fonctionnaire de l'église ou d'un noble indique la défaveur du roi ou la corruption et le manquement au devoir, et une mouche planant au-dessus d'une jeune fille ou d'une noble suggère une impudeur ou une femme adonnée à la lubricité. En tant que quatrième plaie d'Égypte, dans la Bible, les mouches représentent aussi la mort et la décomposition.
Toutefois, en tant que totem, l'animal-esprit mouche symbolise l'abondance et la prospérité pendant les périodes d'adversité. Il invite à être persévérant, cohérent et déterminé face à l'adversité, ce qui apportera le succès.
Dans les rêves, les mouches bourdonnantes vous invitent à faire attention à un événement inhabituel ou désagréable qui est en œuvre.
•
Flies are some of my favorite insects to draw. There is something gracious about them, always cleaning up, despite their reputation of filth. They are misunderstood, like most creatures we give negative (human) attributes to…
Let me know what you think about flies…
The insect fly plays a vital role in the cycle of life. It has both a positive and a negative representations in symbolism:
In Western art, dating back to Medieval times, flies were used to symbolize decay, death and rot of the flesh and soul. In Christian symbolism, a fly hovering over a church official or nobleman indicates disfavor with the  king or corruption and dereliction of duty, and a fly hovering over a maiden or noblewoman suggests shamelessness or a woman given to lustful actions. As the fourth Biblical plague of Egypt, flies also represent death and decay.
However, as a totem, the fly spirit animal symbolizes abundance and prosperity during times of adversity. It sends the message that by being persistent, consistent, and determined even in the face of adversity will bring success.
In dreams, flies buzzing are inviting you to be cautious of an unusual and unpleasant event in the works.